Awakeneers' music centres around honest vocals sweetened with multi-part harmonies and supported by rich acoustic instrumentation. The nomadic band of multi-instrumentalist songwriters — most of whom are siblings — segues seamlessly from a foot-stomping fiddle tune to a hip-hop guide to mindfulness; from hilarious satire to heart-wrenching and conscience-raising eco-ballads; to soaring inspirational harmonies of love and hope. These seasoned minstrels weave a genre-bending blend of acoustic positivity that orbits elliptically around the idea of folk music.
The official mission of the band is to embody light, love, and truth — for the benefit of all beings. Their songwriting shines a light on life's big questions, celebrating the goodness of humanity and the miracle of Life on Earth.
Since their humble early days in a dirt floored cabin, the Awakeneers have toured Canada by van and sailboat — as well as the US and Europe — playing venues from street busking, seaside docks, schools, homeless shelters, folk clubs, meditation and yoga centres, peace conferences, folk festivals, and for congregations of all faiths.
Upcoming Gigs
| | | |
| --- | --- | --- |
| Aug 14<00>th00> | Spirit Square, Campbell River BC | Sunday 11:00am |
| Aug 20<00>th00> | River City Skydive Festival, Campbell River BC | Saturday 12:00pm |
| Aug 21<00>st00> | Willow Point Artisan Summer Market, Campbell River BC | Sunday 11:00am |
| Sep 4<00>th00> | Victoria Folk Music Society - Norway House, Victoria BC | Sunday 8:00pm |
| Sep 25<00>th00> | Haig-Brown Festival, Campbell River BC | Sunday 12:00pm |
See All...
Latest Releases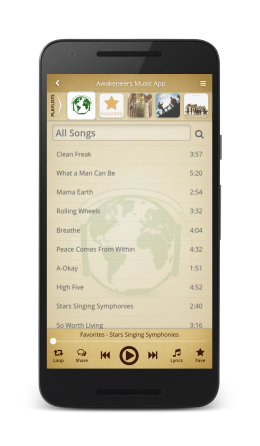 Awakeneers Music App
A free music streaming app for your smartphone that comes loaded with Awakeneers music — plus videos, lyrics and more!
Unlimited free listening.
Complete lyrics and chords.
Immediate access to new recordings.
Customizable playlists of your own.
Data friendly offline functioning.
Totally free — zero advertisements.
Subscribe to Get Free Music
Sign up to get free access to an extensive selection of music downloads, ongoing giveaways, and periodic email updates.
Support
Music
Most of our work is done on a nonprofit by-donation basis. Help support our mission by making a donation through our secure online payment processing at sunship.com