Interfaith Music
The Awakeneers repertoire of original songs brings a fresh perspective to principles that are common to all spiritual and religious traditions. Through poetic and direct lyrics, evocative melodies, and supportive instrumentation, an Awakeneers concert aims to give a gift of inspiration, joy, and recognition that supports individuals' journey on the Way, whatever path they may be taking.

With seven or more musicians playing guitar, keyboard, percussion, violin, ukulele, banjo, cello, and bass, the Awakeneers create a powerful and unique musical experience.
People's responses
"Music written and performed from the heart to inspire the soul."

Bob Schneck

Poet and green building pioneer

New York NY
"spirited, wise, soulful songs. Not only is their music delightful to hear, the lyrics convey messages of hope, wisdom and peace."

Janet E

Bellingham, WA
"Wonder-filled gifts of inspiring songs - music for all beings everywhere!"

Stacy Tatum

Performance Artist

Tijeras, NM
"Disarming in the simplicity of its message. But there is more than expressive harmonies well balanced between vocals and instruments. It resonates and throws light on something within..."

Eric

Boston, MA
"Pure originality that strikes a deeper chord."

Lisa de Wolf

Producer, Celebrity Enterprises, Inc.
"Uplifting and one of a kind!"

Mark Padilla
"Pure positivity filled with intelligent and inspiring food for thought."

Jakob Gyllenpalm

Sweden
"Medicine for the soul"

Shante van Horlick

Vocal Coach and Opera Singer

Nanimo
Over the past 10 years the Awakeneers (performing as the Solaris Music Project) have been fortunate to offer music at numerous churches, chapels, meditation centers, and other contemplative and religious gatherings throughout the USA, Canada, and Europe. (see partial list below)
Some of the faith gatherings where we have offered music
2015 Parliament of World Religions.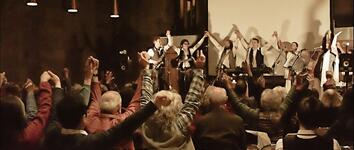 Dharma Realm Buddhist University in Ukiah.
World AIDS day interfaith service in SF.
2021 Parliament of World Religions

-

Online event

,

2018 Parliament of World Religions

-

Toronto ON

,

Big House Dining Hall

-

Esquimalt Nation - Victoria BC

,

St. Mark's Church in-the-Bowery

-

New York NY

,

International Humanities Conference

-

Salem MA

,

St. Aidan's United Church

-

Victoria BC

,

Bellingham Unitarian Fellowship

-

Bellingham WA

,

Interfaith Community Sanctuary

-

Seattle WA

,

Dharma Realm Buddhist University

-

Ukiah CA

,

St. Cyprian's Church

-

San Francisco CA

,

St John's Lutheran Church

-

Sacramento CA

,

St. Paul's Episcopal Church

-

Walnut Creek CA

,

Center for Spiritual Living

-

Santa Fe NM

,

Christ United Methodist Church

-

Salt Lake City UT

,

Parliament of World Religions — 2015

-

Salt Lake City UT

,

Grace Cathedral

-

San Francisco

,

Peace Lutheran Church

-

Danville, CA

,

Peace In The Park Festival

-

San Francisco

,

Church of Truth

-

Victoria

,

Canadian Memorial United Church & Centre for Peace

-

Vancouver

,

UVic Interfaith Chapel

-

Victoria

,

Interfaith Sanctuary

-

Seattle

,

Mevlevi Order of America - Seattle Circle

-

Seattle

,

St.Ignatius Chapel

-

Seattle

,

Findhorn Community Centre

-

Findhorn EcoVillage
Music Videos